A helpful guide for your visit to the temple
Learn about Temple Baptism and Confirmation
The online article About Proxy Baptism and Confirmation provides an excellent overview of these temple ordinances. Parents may also wish to review the Come, Follow Me discussion guide with their children, Preparing Your Children for a Lifetime on God's Covenant Path.
You don't need to know or remember everything that happens in the temple. Just enjoy the experience. Prayerfully prepare for the temple and then focus on the joy of being in the house of the Lord while you serve others.
Obtain a Temple Recommend
The temple is the house of the Lord and standards for admission are set by Him. We enter as His guests. A small card called a temple recommend is required to enter the temple and participate in temple baptisms and confirmations. The recommend affirms that the member is faithfully striving to live the gospel of Jesus Christ. Members of the Church may obtain temple recommends beginning January of the year they turn 12. New members are encouraged to attend the temple as soon as their circumstances permit. To get a recommend, schedule a temple recommend interview with your bishop or branch president. You may wish to review the temple recommend questions you will be asked during the interview. The questions are the same for youth and adults receiving recommends for temple baptisms and confirmations. Temple recommends for baptisms and confirmations are valid for one year.
Consider a Family Name
In the temple, you can have the special opportunity to be baptized and confirmed for your own family members who have passed away. You can provide this service for parents, grandparents, siblings, aunts, uncles, cousins, and others. Female members perform proxy ordinances for female ancestors, and males for males. Your ward temple and family history consultant can help you find a name. You may also find family names using the FamilySearch Ordinances Ready app.

If you don't have your own family names, you can still perform baptisms for deceased people who have had their names submitted to the temple by other members.
Schedule an Appointment
In some temples, no appointment is needed to perform baptisms. But in other temples, it's best to schedule one. An appointment for temple ordinances can be scheduled either online on the Temples website or by calling the temple.
It may be easier and more meaningful to ask a friend or family member to help you schedule your first temple appointment and attend with you. If they are your same sex, you could also ask them stay with you and guide you in the temple. Many wards and branches schedule group appointments so members can attend together. To avoid being rushed, arrive at the temple about 30 minutes before your scheduled appointment time.
Coordinate Transportation
Make sure everyone who is attending with you knows how to get to the temple. If practical, you may arrange to travel together.
Special Accommodations
If you have any needs that may require special accommodations, you can call the temple ahead of time to make arrangements. Accommodations include mobility, hearing, and native language assistance.
Clothing
When you go to the temple, it is appropriate to wear clothing similar to what you wear to church on Sunday. All temples provide a white jumpsuit, underclothing, and a towel for baptisms. Bras to wear during the baptisms are also available for women, if desired. Women may participate in baptisms while on their periods if they are comfortable doing so. If you have long hair, the temple can also provide you with an elastic hair tie for use in the font. You may want to bring your own hairbrush or comb to use when you're done.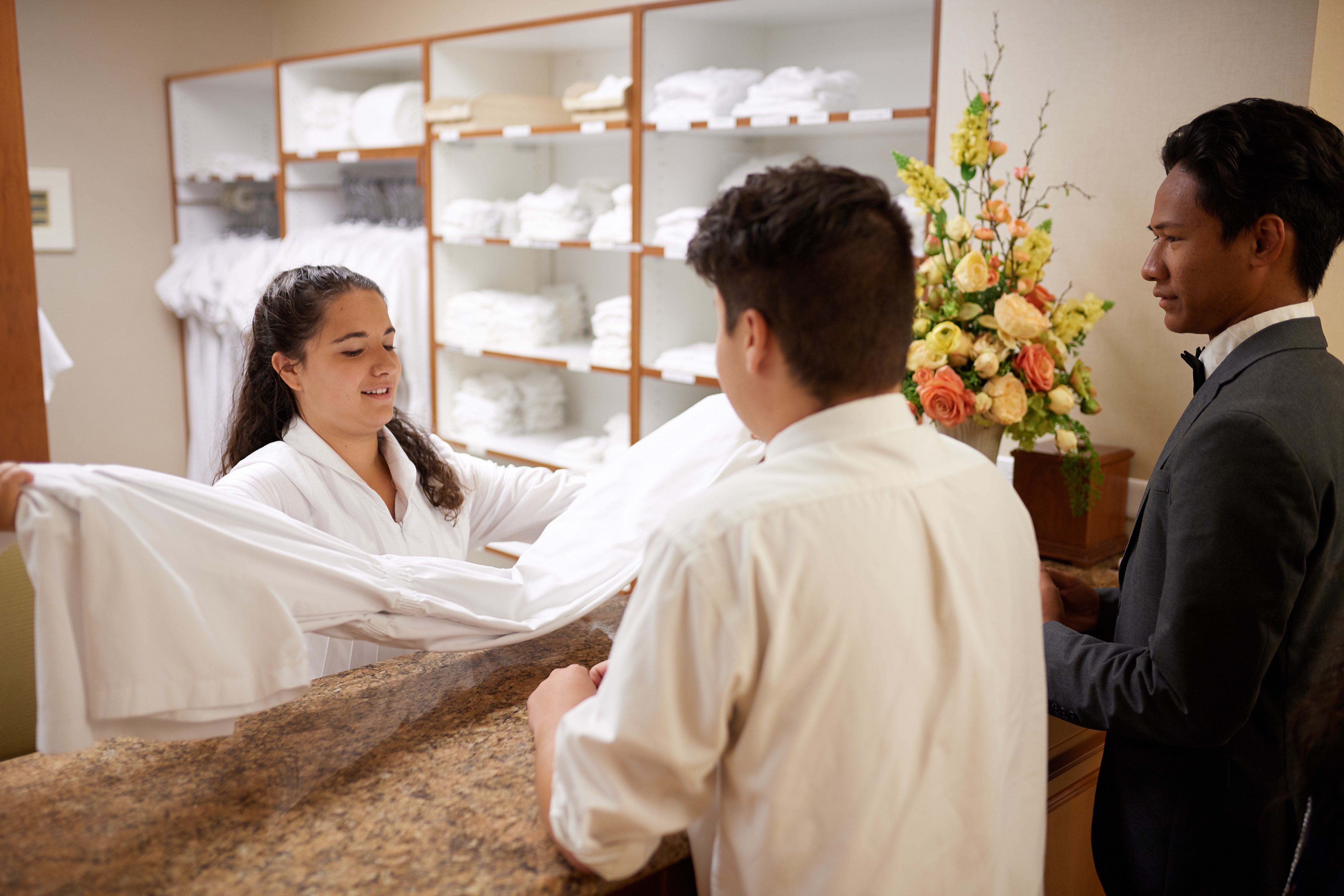 Entering the Temple
When you enter the temple, you will be greeted at the recommend desk by a volunteer temple worker who will check your temple recommend and direct you where to get your white baptismal clothing. Males and females use separate dressing rooms to change. Private locker spaces are provided to change into the jumpsuit and to leave personal belongings.
If the temple baptistry is busy, you may need to wait for a while in a sitting area where you may read scriptures, ponder, or quietly visit with others. Someone will always be there to kindly help and guide you. If you have a question, please ask.
 
Font Water
The water in the font is about waist high, warm, and slightly chlorinated.
Performing Baptisms
When it is your time to be baptized, a temple worker will direct you to the font. If you brought family name cards, bring them with you to the font and give them to the temple worker. There is a handrail to help you step down into the water. The person performing the baptisms will tell you where to stand and how the baptism will be performed. You'll likely be baptized for a few people, one after another. The baptisms will be like your own baptism, but each one will be on behalf of a deceased person. After you're baptized, a worker will give you a towel to dry off and direct you to the dressing room where there is a private shower to rinse off. Then you'll go back to your private locker space, where you'll change into the clothes you wore to the temple. There are bins where you can put the wet clothes.
 
Performing Confirmations
In each baptistry, there is at least one room used for performing confirmations. When you participate in confirmations, you will wear the same clothes you wore to the temple. Priesthood holders will lay their hands on your head and bestow the gift of the Holy Ghost for those who have died, just like when you were confirmed after your own baptism. You may perform confirmations even if you are not performing baptisms. These confirmations would be for deceased people who already had baptisms performed for them.
 
Serve as a Witness
You may also serve as a witness for baptisms. Just like your own baptism, temple baptisms require two witnesses to verify that they are performed correctly. A temple worker will instruct you what to do. You may serve as a witness even if you are not performing baptisms.
Record Your Experience
You may wish to write in a journal about the feelings you had in the house of the Lord. You may also consider planning your next visit to the temple.