The Power of Personal Journals Is Enduring
Contributed By Dean Jessee, Joseph Smith Papers National Advisory Board
Article Highlights
Keep a simple personal journal in a notebook, diary, or smartphone and computer applications for journal keeping; technology makes it easier than ever to capture the things of our hearts for our posterity.
"Begin today and write in it your goings and comings, your deepest thoughts, your achievements and your failures, your associations and your triumphs, your impressions and your testimonies."
—President Spencer W. Kimball
The new year is here! What a future we have before us! But do we remember what we did last year or the year before? Reflecting back perhaps even a little further, do we remember how we felt when a best friend or a family member passed on? Or what did I tell my 12-year-old son when he received the Aaronic Priesthood? How did I feel? What will he remember about that day? Have I kept a record of what my thoughts and feelings were from day to day or about key events in my life?
This new year, you might be asking yourself if you should keep a personal journal.
The revelation given to the Church on the day it was organized began with the words "Behold, there shall be a record kept among you" (D&C 21:1), words that are today emblazoned on the portico of the Church History Library in downtown Salt Lake City. These were the first words spoken by the Lord to the Church in this dispensation.
President Spencer W. Kimball, in his article "The Angels May Quote from It" (New Era, Oct. 1975), reminded us, "The Lord Jesus Christ Himself emphasized the great importance of record keeping to the Nephites and Lamanites." Christ asked the people why the fulfillment of Samuel's prophecies about the resurrection had not been recorded. "'And Jesus said unto them, How be it that ye have not written this thing, that many saints did arise and appear unto many and did minister unto them? And it came to pass that Nephi remembered that this thing had not been written. And it came to pass that Jesus commanded that it should be written; therefore it was written according as he commanded.' (3 Ne. 23:6-13; italics added)."
President Spencer W. Kimball also cautioned us about discounting how important the details of our otherwise "monotonous" lives will be to our posterity: "People often use the excuse that their lives are uneventful and nobody would be interested in what they have done. But I promise you that if you will keep your journals and records, they will indeed be a source of great inspiration to your families, to your children, your grandchildren, and others, on through the generations" ("President Kimball Speaks Out on Personal Journals," New Era, Dec. 1980, 27).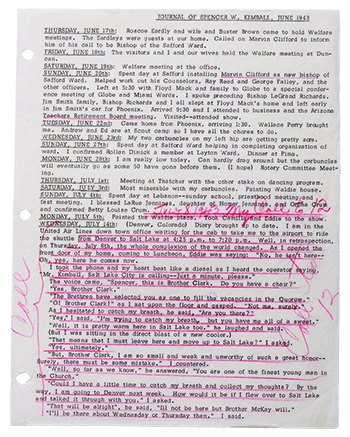 The Book of Mormon prophet Nephi emphasized that the purpose of his writing was "for the learning and the profit of my children" (2 Nephi 4:15). And his brother Jacob added that the people labored diligently to keep their records, "hoping that our beloved brethren and our children will receive them with thankful hearts, and look upon them that they may learn with joy and not with sorrow, neither with contempt, concerning their first parents. For, for this intent have we written these things, that they may know that we knew of Christ, and we had a hope of his glory" (Jacob 4:3-4).
An early Church member, Oliver B. Huntington, wrote: "Many times have I wished that my Father had kept an account of his life, that I might look over it, and see his bygone days, deeds and fortune; and never did he make the scratch of a pen towards it. … This is one object that induces me to write, that my nearest kindred, might know of their kinsman … and to comply with a requirement oft repeated by the Prophet Joseph Smith—'That every man should keep a daily Journal'" (Oliver B. Huntington autobiography, MS, p. 2).
Spencer W. Kimball also gave us this insight: "Each of us is important to those who are near and dear to us—and as our posterity read of our life's experiences, they, too, will come to know and love us. And in that glorious day when our families are together in the eternities, we will already be acquainted" ("President Kimball Speaks Put on Personal Journals," New Era, Dec. 1980, 26).
President Wilford Woodruff was a most important advocate of diary keeping. He declared, "We are living in one of the most important generations that man ever lived on earth, and we should write an account of those important transactions which are taking place before our eyes" (Teachings of Presidents of the Church: Wilford Woodruff [2004], 130). As we look upon our lives in this last dispensation, what will we be able to tell those who came before and those who will come after about what these days were like? There has never been a time on the earth like now.
As we look back at our lives and see what has been happening in our lifetime, the challenges and fears that face us, the marvels that we see on a daily basis, how missionary work has changed, how social media, technology, personal and family health, or economies are affecting all of us, no one could understand that unless someone writes about it.
Among the important historical records of mankind are the diaries and other personal writings of individuals from all walks of life. Such records are an invaluable resource for the preservation of a family's heritage, and they open an important window through which posterity and future historians view the past.
One of the most significant diaries of our time is that of Anne Frank, the 13-year-old Jewish girl living in Holland, who, at the age of 16, died in a German concentration camp. Her diary, written within the cloistered confines of an Amsterdam apartment house, portrays a lovable adolescent girl whose life and words from her diary since her death have inspired millions. How would we have known about the terrors of growing up during the Holocaust if it hadn't been for this young girl's diary?
While presiding over the Church in England in 1840, Parley P. Pratt asked a rhetorical question: "Do you keep a journal?" And responded, "If not, we would again enjoin it upon you, and upon all who have not before heard the admonition, to commence forthwith to keep a Journal, or write a history; and see to it, that what you write is strictly true and unexaggerated; so that in the end, all may know of all things concerning this last work, and all knowledge may flow together from the four quarters of the earth, when the Lord shall make his appearing, and we all may be ready to give a full account of our mission, our ministry and stewardship" ("Do You Keep a Journal?" Millennial Star, Oct. 1840, 160–61).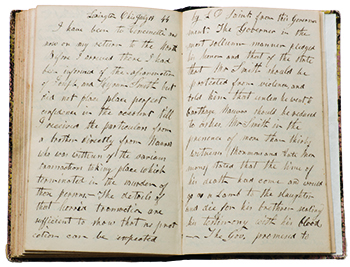 Perhaps the most important wagon that crossed the plains during pioneer times was the wagon that transported the Church records from Nauvoo to the Salt Lake Valley. The records were packed in February 1846 by Thomas Bullock under the direction of the Church Historian, Dr. Willard Richards. There were two wooden boxes with lids screwed on and puttied. Included in those boxes were all the Church records and history, newspapers, documents, and journals. Those journals included Joseph Smith Letterbooks, Joseph Smith Journal, Hyrum Smith Journal, Brigham Young Journal, Lorenzo Snow Journal, Parley P. Pratt Papers, and Willard Richards Papers.
Because of individuals' journals and diaries, we are able to know about the times of Joseph Smith and the Restoration of the Church. The day-by-day entries in Joseph Smith's History of the Church are based upon the journals he kept beginning in November 1832. And his history is supplemented from the diaries and records of many others whose personal experiences combine to provide a rich narrative of the beginnings of the Church during Joseph Smith's lifetime.
The statement that "the Book of Mormon was the most correct of any Book on Earth & the key stone of our religion & a man would get nearer to God by abiding by its precepts than any other Book," exists in no other source except Wilford Woodruff's diary (Wilford Woodruff's Journal, 1833–1898 typescript [1983], 2:139). Wilford Woodruff reported Joseph Smith's words in a meeting with the Quorum of the Twelve on November 28, 1841. Nor would we have sections 130 and 131 of the Doctrine and Covenants had William Clayton not been with Joseph Smith in Ramus, Illinois, on April 2, and again on May 16 and 17, 1843, when those instructions were given and Clayton recorded them in his diary. (See An Intimate Chronicle: The Journal of William Clayton [1995], 95–97, 101–4.)
Later, in 1848, as the Latter-day Saints were scattered on the plains between Nauvoo and the Salt Lake Valley, Oliver Cowdery returned to the Church after an absence of 10 years. Speaking on the occasion of his return to those assembled at Council Bluffs on October 21, 1848, Oliver declared: "I wrote with my own pen the entire Book of Mormon (save a few pages) as it fell from the lips of the prophet as he translated it by the gift and power of god." He went on to testify of being present when "the holy angel" came down and restored the Aaronic Priesthood and "when the Melchizedek priesthood was conferred by the holy angels." The report of Cowdery's remarks is only found in the diary of Reuben Miller (in the Harold B. Lee Library collection; or see "Testimonies of Oliver Cowdery and Martin Harris," Millennial Star, Aug. 20, 1859, 544), who was present at the meeting and wrote what appears to be a verbatim report.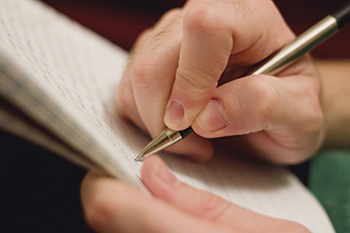 Today, a simple personal journal can be kept in a notebook or special diary. There are smartphone and computer applications for journal keeping and dedicated web services that make it easier than ever to capture the things of our hearts for our posterity.
In the Book of Mormon the prophet Alma wrote that it was wisdom in God that his people kept records, "for behold, they have enlarged the memory of this people" (Alma 37:8). And King Benjamin "enlarged the memory" of his three sons by teaching from the records of their forefathers. As a result, they became "men of understanding," without which they would have "suffered in ignorance," not knowing the things of God (Mosiah 1:2-5). The records we keep have the potential of influencing for good the path of our posterity and help us to "enlarge our memories" so that we can be a people of "understanding."
President Kimball said in the 1975 New Era article "The Angels May Quote from It," "Accordingly, we urge our young people to begin today to write and keep records of all the important things in their own lives and also the lives of their antecedents in the event that their parents should fail to record all the important incidents in their own lives. Your own private journal should record the way you face up to challenges that beset you. Do not suppose life changes so much that your experiences will not be interesting to your posterity. …
"No one is commonplace, and I doubt if you can ever read a biography from which you cannot learn something from the difficulties overcome and the struggles made to succeed. These are the measuring rods for the progress of humanity" (4–5). In the same article, he said, "Your story should be written now while it is fresh and while the true details are available" (5). This single resolution could be one of the most important changes in your life.
"What could you do better for your children and your children's children than to record the story of your life, your triumphs over adversity, your recovery after a fall, your progress when all seemed black, your rejoicing when you had finally achieved? Some of what you write may be humdrum dates and places, but there will also be rich passages that will be quoted by your posterity.
"Get a notebook, … a journal that will last through all time, and maybe the angels may quote from it for eternity. Begin today and write in it your goings and comings, your deepest thoughts, your achievements and your failures, your associations and your triumphs, your impressions and your testimonies. Remember, the Savior chastised those who failed to record important events" (Spencer W. Kimball, "The Angels May Quote from It," New Era, 1975, 5).
Keeping a journal does not necessarily mean, as in the past, that we need to write down everything. In this age of technology, electronic journals of some sort are easy to record, easy to maintain, and easy to store. FamilySearch.org now has the ability to save the electronic files of your journal, digital copies of your printed journals, or even audio files of your oral journals or memories. Click here to attach documents or audio files to your personal profile. No one will see your personal journal while you are alive, and it will be there as a priceless memoir for your descendants. If you have journals or audio files from deceased ancestors, you can digitally preserve and share them at FamilySearch.org under their public profiles in the same manner.