Church highlights from 2014 include news of temples, humanitarian aid, Church growth, and other major events. The Church began a major building project in the Philippines as a result of Typhoon Haiyan, responded to the Ebola crisis in Africa, and served thousands of refugees in the Middle East. Church leaders dedicated temples in Fort Lauderdale, Florida, and Gilbert and Phoenix, Arizona, and rededicated the Ogden Utah Temple.
Major events
On February 3, Sister Bonnie L. Oscarson, Young Women general president, announced that given the international growth of the Church, the time was right to call women to the general board who represent the global membership of the Church. In the past, general boards have been made up of women who live locally. The new Young Women general board now consists of four women from Utah who assist the presidency in more immediate ways at headquarters. They serve, with the help of teleconferencing, with five women who live in Brazil, Peru, Japan, South Africa, and New York City. [Learn more.]
In addition to the new international board, Sister Rosemary M. Wixom, Primary general president; Sister Bonnie L. Oscarson, Young Women general president; and Sister Linda K. Burton, Relief Society general president, announced that auxiliary training—previously held in conjunction with April's general conference at Church headquarters for those who could attend—will be delivered to sisters worldwide through an integrated, global, web-based training effort. [Learn more.]
On February 14, American skeleton slider and Church member Noelle Pikus-Pace finished with the second fastest time in a thrilling Olympic women's skeleton sled race in Sochi, Russia. The Olympic silver medalist soon became known for her religious devotion, and sharp-eyed viewers even spotted her wearing the familiar Young Women logo (torch) pendant during the medal ceremony. [Learn more.]
Believers have a solemn religious duty to be witnesses of God, Elder Dallin H. Oaks of the Quorum of the Twelve Apostles said during a devotional held at Brigham Young University-Idaho on February 25. Recognizing that "we live in a world where many deny the existence of God or the significance of His commandments," Elder Oaks told 15,000 students and faculty members gathered in the BYU-Idaho Center that believers "must affirm our religious faiths, unite to insist upon our constitutional right to the free exercise of our religions, and honor their vital roles in establishing and preserving and prospering this nation." [Learn more.]
At the conclusion of the Church's 184th Annual General Conference, President Thomas S. Monson asked the 15 million Church members across the globe to constantly nourish their testimonies of the gospel, "that they will be a protection for us against the buffetings of the adversary." During the Saturday afternoon session of the conference, the First Presidency announced a new member of the Presidency of the Seventy, four new General Authorities, a new Sunday School general presidency, and 42 Area Seventies.
During a historic worldwide gathering, women, young women, and girls filled the Conference Center to hear the words of Church leaders during the first-ever general women's meeting on March 29. [Learn more.]
In a concert presented in the Salt Lake Tabernacle on April 18-19, the Mormon Tabernacle Choir and Orchestra at Temple Square performed Handel's Messiah in its entirety. [Learn more.]
President Dieter F. Uchtdorf, Second Counselor in the First Presidency, was among Christian leaders from throughout the nation welcomed by U.S. President Barack Obama to the White House in Washington, D.C., for the fifth annual Easter prayer breakfast April 14, marking the beginning of Holy Week. [Learn more.]
After spending some time talking about using technology wisely during a Church Educational System devotional broadcast on May 4, Elder M. Russell Ballard became the first member of the Quorum of the Twelve Apostles to send a tweet using the social platform Twitter. [Learn more.]
In June, FamilySearch, the Church's genealogical service, announced it had posted its billionth digital image online. [Learn more.]
Church member David Archuleta, who became famous as a finalist on American Idol in 2008, participated in a June 24 Facebook "Face to Face" online event that was hosted by the Young Men and Young Women general presidencies. The popular singer responded to questions from viewers—both in and outside the Church—from across the globe. [Learn more.]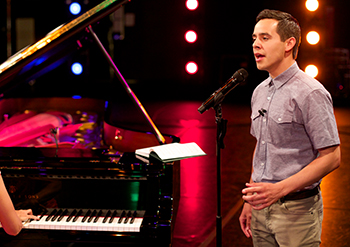 Returned missionary and world-famous violinist Lindsey Stirling also performed during a live Facebook event on November 25. Both live events were moderated by Brother David L. Beck, Young Men general president, and Sister Bonnie L. Oscarson, Young Women general president. [Learn more.]
At the 2014 RootsTech conference in Salt Lake City in February, Elder Neil L. Andersen of the Quorum of the Twelve Apostles issued a challenge to the youth to "prepare as many names for the temple as you perform baptisms in the temple." To help LDS youth around the world complete the challenge, the Church released a number of tools online at templechallenge.ChurchofJesusChrist.org. [Learn more.]
Two new mobile apps—FamilySearch Family Tree and FamilySearch Memories—were produced to allow a person to capture memories, interviews, photos, and media sources from convenient locations and sync them with FamilySearch.org. [Learn more.]
During his address at the BYU Campus Education Week devotional on August 19, Elder David A. Bednar of the Quorum of the Twelve Apostles urged Church members to flood the earth with gospel messages of truth. "Social media channels are global tools that can personally and positively impact large numbers of individuals and families," he said. Elder Bednar's message led to the update of the Church's Handbook 2, with guidelines on using the Internet for that purpose. [Learn more.]
President Kevin J Worthen became the 13th president of Brigham Young University at his inaugural ceremony on September 9 in the Marriott Center on the BYU campus. His tenure and responsibilities as president began on May 1. [Learn more.]
In its 30th anniversary year, the Church History Museum closed on October 6 for a year-long renovation. The museum will reopen in the fall of 2015 with a new floor plan and a major new Church history exhibit called "The Heavens Are Open." Coinciding with the reopening will be the opening of the museum's 10th International Art Competition. [Learn more.]
For the first time in its history, the Church released a feature-length film documentary commercially on October 10. The film, Meet the Mormons, highlights the lives of six Latter-day Saints who live across the globe—in areas spanning from the Himalayan mountains in Nepal to the rain forests of Costa Rica to the Salt Lake Valley. [Learn more.]
LDS women, young women, and Primary girls ages 8-11 gathered throughout 31 European nations to receive words of inspiration and counsel. Meetings for female members have been held on a Churchwide level for many years. However, the sisters' meeting, which originated in Frankfurt, Germany, and was transmitted via satellite to meetinghouses throughout Europe on September 9, was the first held for a specific geographical region. More than 52,000 women and girls attended the meetings in chapels or watched via the Internet. Elder M. Russell Ballard and Elder David A. Bednar accompanied by their wives and other Church leaders, traveled to the Europe Area and addressed the meeting. [Learn more.]
The Church's 184th Semiannual General Conference on October 4-5 marked the first time some speakers, whose primary language is not English, delivered their talks in their native tongues. Elder Chi Hong (Sam) Wong of the Seventy, who spoke in the Saturday morning session, delivered his address in Cantonese—the first talk in a language other than English in 184 years of the general conferences. In addition, two members of the Quorum of the Seventy were given emeritus status and two Area Seventies were released. [Learn more.]
A trio of LDS leaders traveled to Vatican City—headquarters of the Catholic Church—to participate in a historic, three-day interfaith gathering November 17-19 to reaffirm the centrality of marriage and families in society. The collection of religious leaders attending "Humanum: An International Interreligious Colloquium on the Complementarity of Man and Woman" included representatives from 14 religious traditions and 23 countries. President Henry B. Eyring, First Counselor in the First Presidency, delivered a 20-minute speech on November 18 on the sanctity and essential value of marriage between a man and a woman. He was joined in Vatican City by Elder L. Tom Perry of the Quorum of the Twelve Apostles and Bishop Gerald Causse of the Presiding Bishopric. [Learn more.]
On December 3-4, the Church contacted millions of its members via email for the first time to share a message from the First Presidency and two messages concerning the holiday season. Emails were sent to members who provided an email address through their LDS Account. [Learn more.]
The latest publication of the Joseph Smith Papers Project, volume 3 in the Documents series, was released December 1. [Learn more.]
Church growth
Greeted by enthusiastic missionaries preparing to serve in North, Central, and South America, Elder Dallin H. Oaks of the Quorum of the Twelve Apostles dedicated the Mexico City Missionary Training Center on February 9. The new facility was created on the 90-acre site of the Church-owned high school Benemerito de las Americas. In his dedicatory remarks, Elder Oaks said, "With this step Mexico takes its place as a nation among nations in the hastening of the work of salvation in the whole of North and South America." [Learn more.]
Elder Jeffrey R. Holland of the Quorum of the Twelve Apostles, accompanied by other Church leaders, visited Asia February 19-March 2. The leaders visited Beijing, Hong Kong, Macau, Taipei, and Bangalore—holding priesthood leadership, missionary, and member meetings; conducting an area review; and attending a devotional commemorating the 65th anniversary of the Church in Hong Kong. Members in Asia, Elder Holland said, are all spiritual pioneers for the Church and for Christianity. [Learn more.]
Almost nine decades have passed since Elder Melvin J. Ballard, a member of the Quorum of the Twelve Apostles, gathered with a small group in a park in Buenos Aires, Argentina, and dedicated South America for the preaching of the gospel in 1925. Elder M. Russell Ballard of the Quorum of the Twelve Apostles, a grandson to Elder Melvin J. Ballard, visited the South America South Area February 13-24. Joined with local leaders and their wives, and at the direction of the First Presidency, Elder Ballard dedicated the land of Argentina and promised a blessing on the country. Although there may have been an Apostle's earlier dedication, there is no record of such in the Church. Elder Ballard said, "It was a great honor for me to dedicate and record a blessing for Argentina, a very special place for all of the Ballard family." [Learn more.]
Elder Russell M. Nelson and Elder Neil L. Andersen, both of the Quorum of the Twelve Apostles, accompanied by their wives, visited the Pacific Area February 12-24. The Pacific Area has become a true power in the Church in the 170 years since the arrival of the first missionaries. Almost a half-million members live in the region, belonging to more than 100 stakes. Ten temples dot the area map, stretching from Perth, Australia, to Papeete, Tahiti. [Learn more.]
In April, two new missions were created in Africa—the Cote d'Ivoire Abidjan West Mission and the Republic of the Congo Brazzaville Mission. [Learn more.]
Elder D. Todd Christofferson of the Quorum of the Twelve Apostles fulfilled a number of assignments during his trip to Europe March 13-24 that included stops in four nations—England, Belgium, Cyprus, and Greece. His assignments included the dedication of a new young single adult building in Manchester, England, and the overseeing of the inauguration of the Church's new European Union office in Brussels, Belgium. [Learn more.]
On May 25, Cambodia reached a major milestone with the creation of the Cambodia Phnom Penh North Stake and Cambodia Phnom Penh South Stake, the first stakes in Cambodia. It is only the second time in Church history that the first two stakes in a single country have been created on the same day. [Learn more.]
Elder Jeffrey R. Holland created the Church's second branch in Cuba on Sunday, June 15. During a branch conference, the Havana Cuba Branch was divided to create the El Cotorro Cuba Branch. [Learn more.]
On May 29, Elder Carlos H. Amado, President of the Central America Area, rededicated the Guatemala City Missionary Training Center. The facility underwent renovations to accommodate the influx of missionaries following President Monson's announcement that changed the minimum missionary age. [Learn more.]
On June 8, Elder Holland organized the Kingston Jamaica Stake—the first stake in Jamaica and the second in the English-speaking Caribbean following the organization of the Port of Spain Trinidad Stake in 2009. [Learn more.]
On July 12, 1,500 Latter-day Saints gathered in Hong Kong to celebrate the prayer that opened the Hong Kong mission 65 years earlier. Since the opening of the mission, the Church expanded to include over 850,000 members meeting in 1,500 congregations in 18 countries in the region. Elder Matthew Cowley of the Quorum of the Twelve Apostles said the prayer at Victoria Peak in 1949. [Learn more.]
From October 23 to November 1, Elder Dallin H. Oaks visited the Philippines and noted the tremendous growth of the Church there. Membership in the Philippines has grown to more than 700,000 since April 1961 when President Gordon B. Hinckley, then of the Quorum of the Twelve Apostles, offered a prayer for the country. Along with the increase in membership, there are 902 Latter-day Saint chapels, 21 missions, and two temples in the Philippines. A third temple has been announced and will be constructed in Urdaneta. [Learn more.]
Temple news
The Gilbert Arizona Temple was dedicated Sunday, March 2, to be a sanctuary of serenity, a refuge from the storms of life and the noise of the world, and a house of quiet contemplation concerning the eternal nature of life and the Lord's divine plan for His children. President Thomas S. Monson presided over the three sessions to dedicate the 142nd operating temple in the world and the fourth in Arizona. Located in Phoenix's East Valley, the temple serves Latter-day Saints in Tempe, Chandler, Gilbert, Queen Creek, Florence, Globe, and Maricopa. [Learn more.]
In the opening session of the 184th Annual General Conference on Saturday morning, April 6, President Thomas S. Monson spoke of the recent Gilbert Arizona Temple dedication and the upcoming Fort Lauderdale Florida Temple dedication. In 2015 the Church will complete and dedicate new temples in several parts of the world. When all the previously announced temples are completed, the Church will have 170 operating temples throughout the world, he said. "Although we are currently concentrating our efforts on completing the previously announced temples and will not be announcing any new temples in the immediate future, we will continue the process of determining needs and finding locations for temples yet to come. Announcements will be made in future general conferences," he said. "We are a temple-building and a temple-attending people." [Learn more.]
President Dieter F. Uchtdorf, Second Counselor in the First Presidency, dedicated the Fort Lauderdale Florida Temple on Sunday, May 4. It is the Church's second temple in the Sunshine State and the 143rd in operation worldwide. The temple was dedicated in three sessions and serves some 25,000 Church members throughout south Florida. In his remarks at the dedication, President Uchtdorf said, "The lives of [the] Florida pioneers are testimonies of the power, truth, and goodness of the gospel message. As we dedicate the Fort Lauderdale Temple and honor the Lord, we also remember and honor these faithful members who prepared the way." [Learn more.]
More than seven decades after ground was broken for the first Latter-day Saint meetinghouse in Meridian, Idaho, Church and community members gathered on August 23 for the groundbreaking ceremony of the Meridian Idaho Temple. Elder David A. Bednar of the Quorum of the Twelve Apostles offered the dedicatory prayer prior to officially breaking ground for the temple. [Learn more.]
President Thomas S. Monson rededicated the renovated Ogden Utah Temple—the Church's 14th temple—on September 21. "How grateful I am for the rededication of the beautifully renewed and refurbished Ogden Utah Temple," he said. "It stands as a beacon of righteousness to all who will follow its light—the light of the gospel of Jesus Christ." [Learn more.]
President Monson dedicated a new temple in the city of Phoenix on November 16. The Phoenix Arizona Temple, the Church's 144th worldwide and fifth in Arizona, sits on 5.19 acres and serves some 60,000 Latter-day Saints from 16 stakes. Three fountains are featured on the temple grounds, symbolically bringing water, life, and nourishment, to the parched Arizona desert. President Monson noted that the temple was dedicated just weeks before Thanksgiving and encouraged members of the temple district to thank their Heavenly Father for the life-giving waters. [Learn more.]
Humanitarian relief
On December 14, 2013, Latter-day Saints in Peru completed a massive beach-cleaning project that was organized to bring beauty to Lima's coastline and beaches in other areas of the South American nation. Members realized their goal to perform 30,000 hours of service as part of a Mormon Helping Hands project. [Learn more.]