April 2018 General Conference News and Announcements
NOTE: Check this page often for important news and announcements made during each session of the 188th Annual General Conference.
New temples
During the Sunday afternoon session, President Russell M. Nelson announced seven new temples will be built in Salta, Argentina; Bengaluru, India; Managua, Nicaragua; Cagayan de Oro, Philippines; Layton, Utah; Richmond, Virginia; and a major city yet to be determined in Russia.
Ministering replaces home and visiting teaching
During the Sunday afternoon session of April general conference, President Russell M. Nelson announced that the separate programs of home teaching and visiting teaching are now a coordinated effort called "ministering."
Sister Jean B. Bingham, Relief Society General President, said ministering is "becoming part of someone's life and caring about him or her" and may include Laurels and Mia Maids as companions to Relief Society sisters, and priests and teachers continue as companions to Melchizedek Priesthood holders.
Elder Jeffrey R. Holland of the Quorum of the Twelve Apostles explained that ministering brothers and sisters will counsel with leaders in a quarterly ministering interview about the needs and strengths of those they are assigned. The number of interviews leaders had during a quarter is the only formal report that will be made.
The leaders explained that ministering does not include a set monthly message in the Church magazines nor a prescribed way to keep in contact each month—but visits are important when possible.
One Melchizedek Priesthood quorum
During the general priesthood session Saturday evening, President Russell M. Nelson announced that the ward (or branch) high priests group and elders quorum will now be combined into one elders quorum. Stake high priests quorums will be based on current priesthood callings.
The ward elders quorum will be led by a presidency that may be comprised of elders and high priests, explained Elder Christofferson. The elders quorum president will report to the stake president and meet regularly with the bishop. Priesthood offices will remain the same. The current elders quorum presidency will be released and the stake president will call a new elders quorum presidency, explained Elder Rasband.
The stake high priests quorum will continue to function, with the stake presidency continuing to serve as the presidency of that quorum. However, this quorum will include only those high priests currently serving in the stake presidency, in bishoprics, on the high council, and as functioning patriarchs, Elder Rasband said.
2017 statistical report
CHURCH UNITS

Stakes

3,341

Missions

421

Districts        

553

Wards and branches

30,506

CHURCH MEMBERSHIP

Total membership

16,118,169

New children of record

106,771

Converts baptized

233,729

MISSIONARIES

Full-time missionaries

67,049

Church-service missionaries

36,172

TEMPLES

Temples dedicated during 2017
(Paris France, Tucson Arizona, Meridian Idaho, Cedar City Utah)

4

Temples rededicated during 2017
(Idaho Falls Idaho)

1

Temples in operation at the end of 2017

159
New Young Women General Presidency
President Dallin H. Oaks of the First Presidency announced that Bonnie H. Cordon will serve as General President, Michelle D. Craig has been called as the First Counselor, and Becky Craven will serve as Second Counselor.
Counselor in Primary General Presidency
Sister Lisa L. Harkness was called as the new First Counselor in the Primary General Presidency.
New General Authority Seventies
President Dallin H. Oaks of the First Presidency announced the calls of two new members of the Presidency of the Seventy, eight General Authority Seventies, and 55 Area Seventies during the Saturday afternoon session of the April 2018 general conference.
Presidency of the Seventy
Called to the Presidency of the Seventy immediately are Elder Carl B. Cook and Elder Robert C. Gay. Elder Terence M. Vinson, Elder José A. Teixeira, and Elder Carlos A. Godoy will begin serving in the Presidency of the Seventy in August.
General Authority Seventies
Eight new General Authority Seventies were announced in the Saturday afternoon session: Elder Steven R. Bangerter, Elder Matthew L. Carpenter, Elder Jack N. Gerard, Elder Mathias Held, Elder David P. Homer, Elder Kyle S. McKay, Elder Juan Pablo Villar, and Elder Takashi Wada.
Area Seventies
The following newly called Area Seventies were announced: Richard K. Ahadjie, Alberto A. Álvarez, Duane D. Bell, Glenn Burgess, Víctor R. Calderón, Ariel E. Chaparro, Daniel Córdova, John N. Craig, Michael Cziesla, William H. Davis, Richard J. DeVries, Kylar G. Dominguez, Sean Douglas, Michael A. Dunn, Kenneth J. Firmage, Edgar Flores, Silvio Flores, Saulo G. Franco, Carlos A. Genaro, Mark A. Gilmour, Sergio A. Gómez, Roberto Gonzalez, Virgilio Gonzalez, Spencer R. Griffin, Matthew S. Harding, David J. Harris, Kevin J. Hathaway, Richard Holzapfel, Eustache Ilunga, Okechukwu I. Imo, Peter M. Johnson, Michael D. Jones, Pungwe S. Kongolo, George Kenneth G. Lee, Aretemio C. Maligon, Edgar A. Mantilla, Lincoln P. Martins, Clement M. Matswagothata, Carl R. Maurer, Daniel S. Mehr II, Glen D. Mella, Isaac K. Morrison, Yutaka Nagatomo, Allistair B. Odgers, R. Jeffrey Parker, Victor P. Patrick, Denis E. Pineda, Henrique S. Simplicio, Jeffrey H. Singer, Michael L. Staheli, Djarot Subiantoro, Jeffrey K. Wetzel, Michael S. Wilstead, Helmut Wondra, and David L. Wright.
Solemn assembly
During a solemn assembly of Church members worldwide March 31, 2018, President Russell M. Nelson was sustained as prophet, seer, and revelator and President of the Church. President Dallin H. Oaks was sustained as First Counselor and President Henry B. Eyring as Second Counselor in the First Presidency.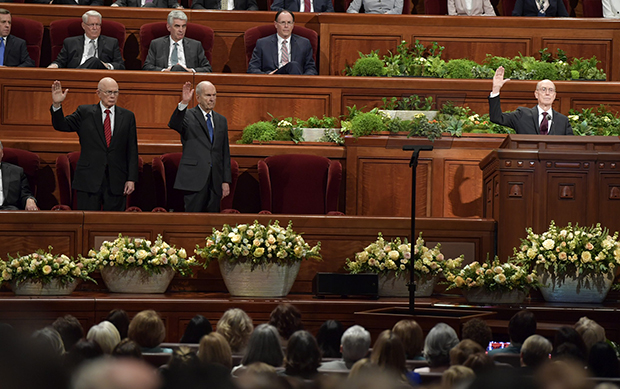 President Russell M. Nelson, the 17th President of The Church of Jesus Christ of Latter-day Saints, and his counselors, President Dallin H. Oaks, First Counselor (left), and President Henry B. Eyring, Second Counselor (right), during the solemn assembly March 31, 2018.
Two new Apostles
Two new members of the Quorum of the Twelve Apostles were also announced during the Saturday morning session. Elder Gerrit W. Gong and Elder Ulisses Soares were sustained as Apostles, filling vacancies left by the deaths of President Thomas S. Monson and Elder Robert D. Hales.
Elder Gong was serving as a member of the Presidency of the Seventy at the time of his call to the Twelve. He became a General Authority of the Church on April 3, 2010.
Elder Soares was also serving in the Presidency of the Seventy since January 16, 2013. He became a General Authority of the Church on April 2, 2005.
The new Apostles will address the worldwide Church audience during the Sunday afternoon session of general conference. They will be ordained during the week following general conference and begin their service in the Quorum of the Twelve immediately.